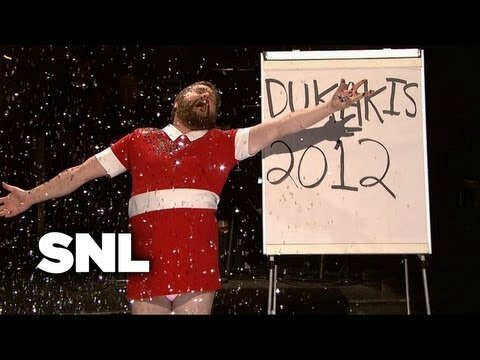 Zach Galifianakis Monologue - Saturday Night Live
Présentateur: Ladies and gentlemen, Zach Galifianakis!
Mesdames et messieurs: Zach Galifianakis!


Zach Galifianakis: Thank you, thank you, thank you! Thank you very much, thank you. Thank you.

Merci, merci, merci! Merci beaucoup, merci. Merci.
Please be quiet!
Je vous en prie taisez-vous!
It's great to be back hosting "Saturday Night Live".
C'est un plaisir de revenir présenter "Saturday Night Live".
All week, I was thinking to myself: "Don't screw this up, Fatty."
Toute la semaine je me suis dit : "Ne gâche pas tout, Petit Gros".
That was actually a text from my mother.
En fait, ce texte a été écrit par ma mère.
I'll never forget what my grandmother said right before she passed away. She said to me right before she passed away, she said to me, she said: "What are you doing?"
Je n'oublierai jamais ce que ma grand-mère a dit avant de mourir. Elle m'a dit juste avant de mourir, elle m'a dit, elle m'a dit: "Mais qu'est-ce que tu fais?"
My neighbor, I ran into my neighbor, and he said, "Hey, uh, I hear you're on the TV sometimes. Why don't you say something about me on the TV?" ...Stop stealing my tomatoes!
Mon voisin, je suis allé chez mon voisin et il a dit: "Hey, euh, j'ai entendu dire que tu passais à la télé parfois. Pourquoi tu ne parlerais pas de moi à la télé?... Arrête de voler mes tomates!
I have a lot of exciting things coming up. Uh, next week, uh, I'll be at Long John Silver's. And, in April, I'll be babysitting my sister's kids via Skype.
Dans les jours qui viennent je vais vivre des choses super excitantes. Euh, la semaine prochaine, euh, Je serai à Long John Silver's. Et en avril, je garderai les enfants de ma soeur via Skype.
I also have a DVD of my stand-up, and it's selling like... whatever the opposite of hotcakes is.
J'ai aussi un DVD de mon stand-up et ça se vend comme... n'importe quel mot qui est contraire à "comme des petits pains".
I wear a lot of Axe body spray. But I live in a black neighborhood, it's called Ask body spray. And, if you don't get that joke... then, you're not racist.
Je mets beaucoup trop d'Axe. Mais je vis dans un "quartier noir" et on le surnomme Ask. Et si vous ne comprenez pas cette blague....et bien, vous n'êtes pas raciste.
The only time it's good to yell out "I have diarrhea!" is when you're playing Scrabble. Because it's worth a crapload of points.

La seule fois où l'on peut crier "J'ai la diarrhée!" c'est quand on joue au Scrabble. Parce que ça donne un max de points.
This show has a lot of characters in it. I've been doing a lot of, uh, characters over the years, and I'd like to showcase a few characters I've been working on.

Dans ce spectacle, il y a beaucoup de personnages. J'ai joué beaucoup de, euh, personnages pendant toutes ces années, et je voudrais vous en montrer certains sur lesquels je suis en train de travailler.
This first character is called the "Redneck Who Orders Stuff at Convenience Stores Very Masculine-Like, But Cannot Order One of the Products Very Masculinely". Here we go: "Uh, yeah, can I get some beef jerky... some, uh, ...Copenhagen... a foot-long corn dog... and some..., uh... Skittles!"
Ce premier personnage s'appelle "Le péquenaud qui commande des trucs dans une supérette de façon très masculine, mais qui ne peut pas commander un de ces trucs de façon très masculine". "Euh, ouais, puis-je avoir du boeuf séché...un peu de, euh, Copenhagen... un long pogo... et un peu de, euh ...Skittles!"
This next character is called The Guy From Queens Who's Obsessed With Cargo Shorts. Here we go: "What are those, cargo shorts?"

Le personnage suivant s'appelle "Le mec qui vient du Queens et qui est obsédé par les shorts. "Qu'est-ce que c'est que ces shorts?"
This next character... this next character is called... "The Worst Bragger in the World: "So, uh..., yeah... I was french-kissing my brother the other night..."
Le prochain personnage, le prochain personnage s'appelle "Le pire vantard du monde": "Alors, euh, ouais... je faisais un baiser à la française à mon frère la nuit dernière..."
Thank you. Uh... the jokes are done. And I want to talk about now, um ... there's a lot of issues going on, and, uh, in the country right now, in the United States, and I think it's... very important for us, our country to look forward to the future. Because, uh... there's always a tomorrow.


Merci, euh, j'en ai fini avec les blagues. Et je veux maintenant parler de, euh, il y a beaucoup de problèmes, et, euh, dans le pays maintenant, aux Etats-Unis, et je pense que c'est très important pour notre pays de penser au futur. Car, euh, il y a toujours un lendemain.
Music, please.
Musique, je vous prie.
THE SUN WILL COME OUT TOMORROW

LE SOLEIL SE LEVERA DEMAIN
I SURE HOPE SO
JE L'ESPERE VRAIMENT
MARRIAGE SHOULD BE BETWEEN A MAN AND A WOMAN...
LE MARIAGE DEVRAIT ETRE ENTRE UNE FEMME ET UN HOMME...
...OR BETWEEN TWO MEN WHO LIKE TO GO ANTIQUING
OU ENTRE DEUX HOMMES QUI AIMENT FAIRE LES ANTIQUAIRES
THANKS FOR THE APPLAUSE
MERCI D'APPLAUDIR
I WAS BULLIED AS A TEENAGER
QUAND J'ETAIS ADOLESCENT, J'ETAIS HARCELE...
BY FIRST GRADERS
PAR LES ELEVES DE PREMIERE ANNEE
LOOK AT ME NOW
REGARDEZ-MOI MAINTENANT
CLAP IF YOU ENDORSE LEGALIZED MARIJUANA
FRAPPEZ DANS VOS MAINS SI VOUS ETES POUR LA LEGALISATION DE LA MARIJUANA
I'M ASHAMED OF THIS AUDIENCE
J'AI HONTE DE CE PUBLIC
THERE SHOULD HAVE BEEN A LOT MORE CLAPPING
IL DEVRAIT Y AVOIR ENCORE PLUS D'APPLAUDISSEMENTS
I SMOKE SO MUCH POT SOMETIMES I FORGET TO SMOKE IT
JE FUME TELLEMENT DE CANNABIS QUE PARFOIS J'OUBLIE DE LE FUMER
IRAN, IRAQ & NORTH IKEA...

IRAN IRAK NORD IKEA
WHAT TO DO?
QUE DEVONS-NOUS FAIRE?
DUKAKIS 2012

DUKAKIS 2012
LOOKS LIKE FATTY DID OK

ON DIRAIT QUE PETIT GROS S'EN EST BIEN SORTI
We've got a great show! Hoobastank is here! No? Not again? Jessie J is here! We'll be right back!

Ce soir le spectacle va être super! Hoobastank est là! Non? Pas encore? Jessie J est là! On revient!