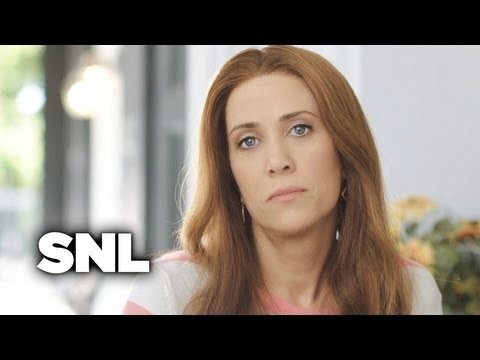 1-800 Flowers - Saturday Night Live
Kathleen: Flowers are nature's most beautiful gift. So this Mother's Day, I'm gonna ahow my mom how much I care, with a little help from 1-800-FLOWERS.
Les fleurs sont le plus beau cadeau de la nature. Alors pour la fête des mères, je vais montrer à ma mère à quel point je pense à elle avec l'aide de 1-800-FLOWERS.


Happy Mother's Day, Mom!
Bonne fête des mères maman!


Maman: Ohhhh... honey, I love these! Thank you!
Ohhhh... chérie, je les adore! Merci!

Kathleen : The gift that's as wonderful as she is
Un cadeau aussi merveilleux qu'elle.

Maman: But... maybe you should keep them, because your apartment is so sad.
Mais...peut-être que tu devrais les garder pour ton appartement, il est si triste!


Kathleen: Because my mom means everything to me! And I love everything about her!
Parce que ma mère représente tout pour moi! Et j'aime tout chez elle!


Maman: Excuse me?
Excusez-moi ?


Serveur: Yeah?
Ouais ?


Maman: Are there nuts in this?
Y a t'il des noix dedans ?


Kathleen: There are never nuts in Eggs Benedict. You don't need to ask that every time.
Il n'y a jamais de noix dans les oeufs Bénédicte! Pas besoin de demander à chaque fois!


Maman: Well, I'm sorry for double-checking, Kathleen.
Et bien, excuse-moi de vérifier une seconde fois, Kathleen.


Kathleen: You're not even allergic. Nothing would happen.

Tu n'es même pas allergique. Il n'arriverait rien!
I guess you could say she's my favorite person in the whole entire world!
J'imagine que je peux dire qu'elle est la personne que je préfère dans le monde entier!


Maman : You know that mattress store downtown? Mattress Factory?
Tu sais ce magason de matelas en ville ? Mattress Factory?

Kathleen: No
Non.


Maman: Mattress Warehouse?
Mattress Warehouse?


Kathleen: No
Non.


Maman: The owner... hanged himself.
Le propriétaire s'est pendu.


Kathleen: She's my role model, my best friend, and everything I hope I'll be one day.
C'est mon modèle, ma meilleure amie et tout ce que j'espère devenir un jour.


Maman: I can't find my debit card, I think my identity's been thieved!
Je n'arrive pas à trouver ma carte de crédit! Je crois qu'on m'a piqué ma carte d'identité!


Kathleen: I'm sleeping!! Why are you up?!
Je dors! Pourquoi tu es debout?


Maman: Representative! 2 - 4 - 5...
Agent! 2 - 4 - 5...


Kathleen: Aaaah!!
Aaaahh!
So this Mother's Day, I'm turning to 1-800-FLOWERS. to help than my mom for all the amazing times.
Alors pour cette fête des mères, je me tourne vers 1-800-FLOWERS. pour aider maman pour tous ces moments magnifiques.



Maman: So what's the latest with that Leann Rimes girl?
Alors quele est la dernière nouvelle sur cette Leann Rimes ?


Kathleen: I have no idea
Aucune idée!


Maman: What a saga that is. Geez...
Quel feuilleton! Mon dieu...

Kathleen: And, above all, how open and honest we are with each other.
Et par-dessus tout à quel point nous sommes ouvertes et honnêtes l'une envers l'autre.


Maman: Last week, your father and I watched a porno.
La semaine dernière ton père et moi nous avons regardé un porno.


Kathleen: Why would you share that with me?!?
Pourquoi tu partages ça avec moi?!
So call or click today, and make this a Mother's Day she won't ever forget.

Alors appelez ou cliquez aujourd'hui et offrez-lui une fête des mères qu'elle n'oubliera jamais.


Maman: I still can't find my debit card!
Je ne trouve toujours pas ma carte de crédit!


Kathleen: Mom! I am doing a commercial!
Maman! Je suis en train de faire une publicité!


Mom: Here, I'll double-check inside this guy. God, I wish I was a lesbian so I didn't have to carry a purse.
Ici, je regarderai deux fois ce mec. Bon sang, j'aurais préféré être lesbienne comme ça j'aurais pas besoin de porter de porte-monnaie.
Where are you going? Honey, it's your commercial! I didn't mean to interrupt!

Où tu vas? Chérie c'est ta publicité! Je ne veux pas t'interrompre!
Come back! Come back!
Reviens! Reviens!

Voix publicitaire: 1-800-FLOWERS. Buckle up, 'cause Father's Day is next...
1-800-FLOWERS. Bouclez-vite ça parce que la fête des pères arrive bientôt...


Père: Kathleen... it was an Asian porno
Kathleen... C'était un porno asiatique


Kathleen: Dad!!!!
Papa!!