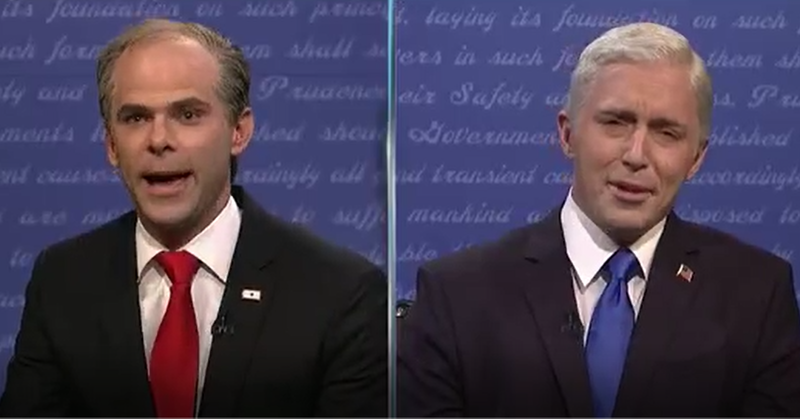 The following is an encore presentation of Tuesday night's Vice Presidential Debate.
L'émission suivante est à nouveau une présentation du débat des vices présidents de mardi soir.
The Vice-Presidential Debate
Le débat des vices présidents
Elaine Quijano: Good evening. From Longwood University, and welcome to the first and only Vice-Presidential debate.
Bonsoir; Depuis l'Université de Longwood, bienvenue dans le premier et dernier débat des vices présidents.
I'm the new Hispanic cast member, and tonight, I'll be playong Asian moderator, Elaine Quijano, because baby steps.
Je suis la nouvelle actrice hispanique, et ce soir, je vais jouer le rôle de la médiatrice asiatique, Elaine Quijano, parce que ce sont les débuts!
Now please, help me welcome America's dad, Senator Tim Kaine.
Maintenant, je vous prie d'accueillir le père de l'Amérique, Sénateur Tim Kaine.
And America's stepdad, Governor Mike Pence.
Et le beau-père de l'Amérique, Gouverneur Mike Pence.
Mike Pence: Good evening.
Bonsoir.
Tim Kaine: Hola, Elaine!
Hola, Elaine!

Elaine Quijano: Hello. I'd like to thank you both for being here.

Bonsoir. Je voudrais vous remercier d'être là.
And also say that you look exactly like a before and after Rogaine Ad.
Et je voudrais aussi ajouter que vous ressembler exactement à un avant/après d'une pub de Rogaine.
Mike Pence: We know.

On sait.
Tim Kaine: We know.

On sait.

Elaine Quijano: Our first question tonight is about foreign policy.
Notre première question ce soir, concerne la politique étrangère.

What are your plans to combat terrorism at home and abroad?
Que prévoyez-vous de faire pour combattre le terrorisme sur notre territoire et ailleurs?
Senator Kaine, we'll start with you.
Sénateur Kaine, on va commencer par vous.

Tim Kaine: Awesome, Elaine.

Génial, Elaine.
I have a great answer for this, and here it is.
J'ai une excellente réponse, et la voici.
Donald Trump has called Mexicans, rapists and he's called women pigs and slobs...
Donald Trump a traîté les mexicains de violeurs et les femmes de cochonnes et de grosses...
Mike Pence: No, no, that's not true.

Non, non, c'est faux.


Tim Kaine: Yes it is, Elaine!

Si c'est vrai, Elaine!
Mike Pence: No, it's not. Those are lies. Donald Trump loves women.

Non c'est faux. Ce sont des mensonges. Donald Trump aime les femmes.

He respects women. He's never said a single bad thing about women.
Il respecte les femmes. Il n'a jamais rien dit de méchant sur les femmes.
I dare you to show me a single shred of evidence that proves otherwise -
Je vous mets au défi de trouver une seule preuve qui montrerait...

This is CNN Breaking News Alert!
Flash spécial sur CNN!