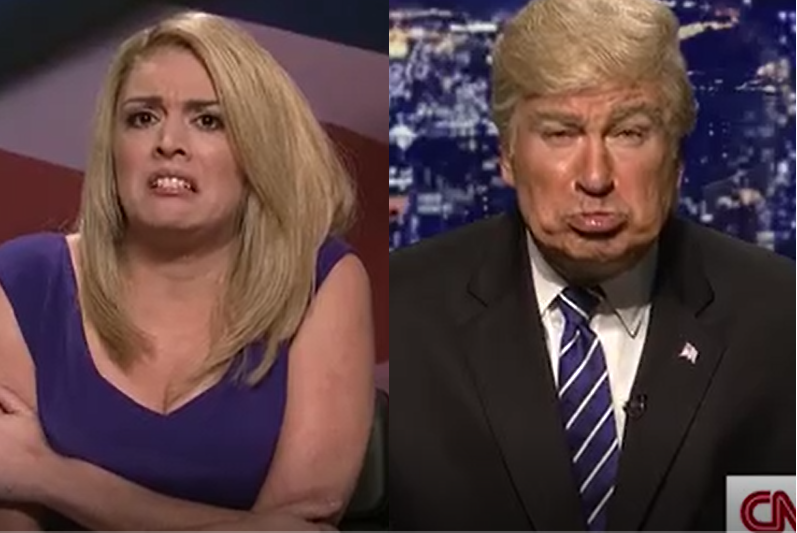 CNN Breking News Alert
Flash Spécial sur CNN
Brooke Baldwin: Well, looks like Donald Trump finally got what he wanted - a working microphone.
Et bien, on dirait que Donald Trump a enfin trouvé ce qu'il recherchait: un micro qui marche.
Newly leaked audio shows Donald Trump and Billy Bush making lewd comments about women on an "access Hollywood" bus in 2005.
Un récent enregistrement audio où l'on peut entendre Donald Trump et Billy Bush faire des commentaires obscènes sur les femmes dans un bus en 2005, a été divulgué.
Here to address this breaking scandal is Donald Trump himself.
Avec nous pour parler de ce scandale, Donald Trump en personne.
Donald Trump: Are you not entertained?
Ne suis-je pas divertissant?
Brooke Baldwin: Alright! Mr Trump, this leaked audio showed you, um - you know, I can't quite say it on live television.

Très bien! Monsieur Trump, l'enregistrement dévoilé vous montre, euh, vous voyez, je ne peux pas vraiment le dire en direct à la télévision.

But basically you said you wanted to, to,...
Mais pour résumé, vous avez dit que vous vouliez, vous vouliez...
Donald Trump: Grab them by the pussy.

Les attraper par la chatte.
Brooke Baldwin: Oh my God!

Oh mon dieu!

Donald Trump: And I would like to take this time to formally apple-o-gize.

Et j'aimerais profiter de ce moment pour pommexcuser officiellement.

Brooke Baldwin: What? What did you say?

Excusez-moi? Qu'avez-vous dit?

Donald Trump: I deeply apple-o-gize.

Je me pommexcuse officiellement.
Brooke Baldwin: Are you trying to say "apologize"?

Essayez-vous de dire "excuser"?

Donald Trump: No I would never do that.

Non, je ne ferai jamais ce genre de choses.

What I am doing is apple-o-gizing to all the people who were offended by my statements but more importantly to the people who were turned on by them. I hear it's really 50/50.
Ce que j'essaye de faire, c'est me pommeexcuser auprès de toutes les personnes choquées par mes déclarations mais encore auprès des gens que ça a excité.
I hear it's really 50/50.
J'ai entendu dire que c'était kif-kif.
Brooke Baldwin: Ok, but Mr Trump, why would you say these horrible things in the first place?

Ok, mais M Trump, au départ, pourquoi avoir dit des choses aussi horribles?


Donald Trump: Come on, Brooke! I was trying to look cool.

Je vous en prie Brooke! J'essayais d'être cool.
I mean, what normal, red-blooded American doesn't want to impress the Billy Bush?
Ce que je veux dire, c'est quel américain avec du sang dans les veines, ne voudrait pas impressioner le grand Billy Bush?

Also, P.S., you have to admit it's kind of funny that the only Bush who matters in this general election is Billy.
Aussi, P.S., vous devez bien admettre que c'est plutôt drôle que le seul Bush qui a de l'importance dans ces élections soit Billy.
Brooke Baldwin: That doesn't really excuse what you said.

Ca n'excuse pas vraiment ce que vous avez dit.

Donald Trump: Listen, ok.

Ok, écoutez.
This was way back in 2005.

C'était il y a longtemps, en 2005.
It was 11 years ago.

Ca s'est passé il y a 11 ans.

Back when I was just a young, childish, 59-year-old man.
Un temps où je n'étais qu'un jeune, qu'un gamin, qu'un homme de 59 ans.
Brooke Baldwin: Ok. Now are Mr Trump, many Republicans have stood by you through a lot of other scandals. But are now pulling their support.

Ok. Bon M Trump, beaucoup de Républicains vous ont soutenu dans des tas d'autres scandales, mais désormais, ils ne vous soutiennent plus.

People like Senator John McCain.
Des gens comme le Sénateur John McCain.
Donald Trump: Coward.

Lâche.

Brooke Baldwin: Carly Fiorina.

Carly Fiorina.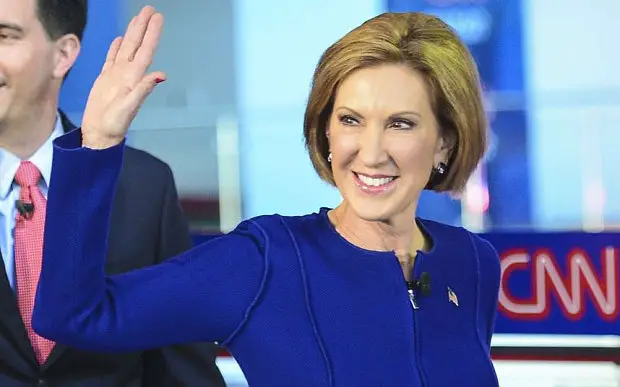 Donald Trump: She's a 4.

Elle ne mérite pas plus de 4 sur 10.

Brooke Baldwin: And Idaho Senator, Mike Crapo.

Et le Sénateur de l'Idaho, Mike Crapo.
Donald Trump: More like Crap-o.

Ou plutôt, "Eh, merde".
Brooke Baldwin: You must admit this is bad for you.

Vous devez bien admettre que ça ne vous arrange pas.

Donald Trump: The only person I need is my running mate Mike Pence.

La seule personne dont j'ai besoin, c'est mon colistier, Mike Pence.
I love Mike Pence, I respect Pence. I'll always have Pence.
J'aime Mike Pence, je respecte Pence. Je soutiendrai toujours Pence.
Brooke Baldwin: Actually, today he said he can't condone your remarks and then he canceled his campaign event.

En fait, aujourd'hui, il a déclaré ne pas tolérer vos propos et puis il a annulé une étape de sa campagne.
Donald Trump: Mike Pence is a loser.

Mike Pence est un perdant.
I hate his guts. I call him Puny Pence.
Je le déteste. Je le surnomme Pence Le Minuscule.
Brooke Baldwin: All right. These comments have specifically offended women.

Très bien. Ces commentaires ont surtout blessées les femmes.
What would you say to women voters watching this right now?
Que voudriez-vous dire aux électrices qui nous regardent en ce moment.

Donald Trump: I would say this - Listen, women. If you give me a chance, I promise I can do a whole lot more than just grab it.

Je dirais ça: "Ecoutez, les femmes. Si vous me donnez une chance, je jure que je peux faire plus que l'attraper."
I can also bop it, twist it, pull it -
Je peux également la balancer, la tordre, la fourrer...
I'm tired of taling about me, ok?
Assez parlé de moi, ok?
We need to move forward and focus on the serious issues.
On doit avancer et parler de problèmes sérieux.
I'd like to send condolences and prayers to everyone affected by hurricane Matthew.
Je voudrais envoyer mes condoléances et mes prière à toutes les personnes touchées par l'ouragan Matthew.
I love the people of Florida.
J'aime les habitants de la Floride.
And I hope that they stay safe.
Et j'espère qu'ils sont en sécurité.
I hope the people in Florida stay safe.
J'espère que les habitants de la Floride sont en sécurité.
Brooke Baldwin: Wow! That was actually a very nice thing to say, Mr Trump.

Ouah! A vrai dire, c'était très gentil M Trump.
Thank you for being here.
Merci d'avoir été avec nous.

Donald Trump: Thank you for having me

Merci de m'avoir reçu.

Brooke Baldwin: Ok. That was Republican nominee, Donald Trump.

OK. C'était le candidat Républicain, Donald Trump.

Joining us to discuss more on this -
Nous rejoint maintenant, pour en parler davantage...

Donald Trump: Let me tell you something -

Je vais te dire...
Brooke Baldwin: What is that?

C'est quoi ça?

Donald Trump: I wish that I was that hurricane, carried through all that hot Miami pussy - I woudl just destroy it.

J'aurais rêvé d'être cet ouragan, emporté à travers cette chatte brûlante de Miami, je l'aurais détruite.
Brooke Baldwin: Mr Trump!!!!! We can still hear you!

M Trump!!! On vous entend toujours!

Donald Trump: Really? Then, I apple-o-gize.
Vraiment? Alors, je me pommeexcuse.