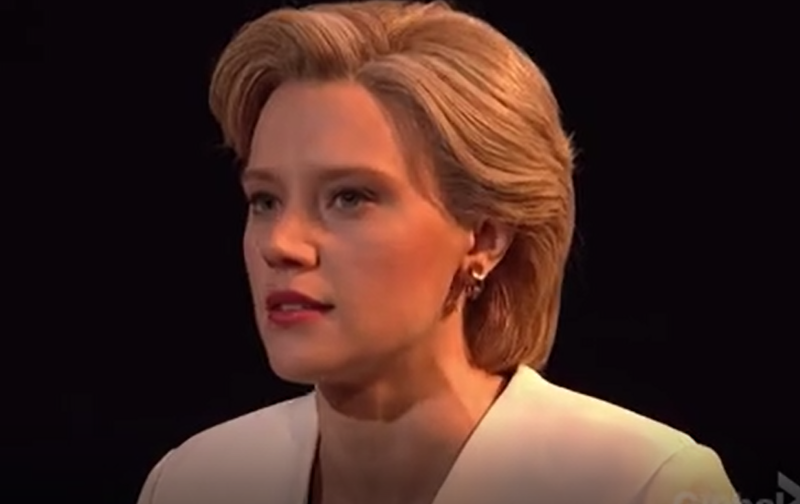 Kate McKinnon performs Leonard Cohen's "Hallelujah" in the #ChappelleOnSNL cold open. pic.twitter.com/vMi96VL4kJ

— Saturday Night Live (@nbcsnl) November 13, 2016
Hillary Clinton:
I heard there was a secret chord
J'ai entendu dire qu'il y avait un accord secret
That David played, and it pleased the Lord
Que David jouait et que ça a plu au Seigneur
But you don't really care for music, do you ?
Mais tu ne t'intéresses pas vraiment à la musique, pas vrai?
Well, it goes like this
Et bien, ça faisait comme ça
The fourth, the fifth
Le quatrième, le cinquième
The minor fall, the major lift
L'accord mineur chute et l'accord majeur s'élève
The baffled king composing Hallelujah
Le roi perplexe qui compose alléluia

Hallelujah, ...
Alléluia...
Oh maybe I've been here before
Oh peut-être que je suis déjà venue ici par le passé
I've seen this room and I've walked this floor
Que j'ai vu cette pièce et que j'ai foulé ce sol
I used to live alone before I knew you
Je vivais seule avant de te connaître
I've seen your flag on the marble arch
J'ai vu ton drapeau sur ton arche de marbre
And love is not a victory march
Et l'amour n'est pas une marche de victoire
It's a cold and it's a broken hallelujah
C'est un alléluia froid et brisé

Hallelujah, ...
Alléluia...
I did my best, it wasn't much
J'ai fait de mon mieux, ce n'était pas grand chose
I couldn't feel, so I tried to touch
J'étais incapable de ressentir quoi que ce soit, alors j'ai essayé de toucher
I've told the truth, I didn't come to fool you
J'ai dit la vérité, je ne suis pas venue pour vous duper
And even though it all went wrong
Et bien que tout se soit mal passé
I'll stand before the Lord of Song
Je me tiendrai debout devant le Seigneur de la Chanson
With nothing on my tongue but Hallelujah
Avec rien d'autre sur le bout de la langue à part "alléluia"

Hallelujah, ...
Alléluia...
I''m not giving up and neither should you.
Je n'abandonne pas et vous ne devriez pas abandonner non plus.
And Live from NY, it's Saturday Night.
Et en direct de NY, c'est Saturday Night Live.