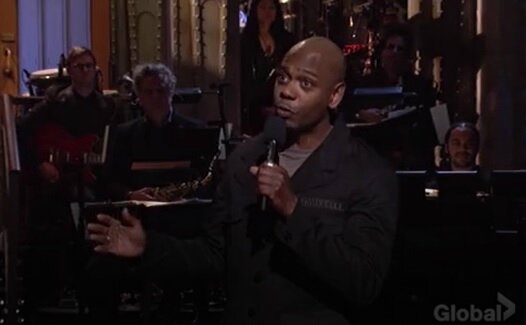 Annonce: Ladies and gentlemen, Dave Chappelle.
Mesdames et messieurs, Dave Chappelle.
Dave Chappelle: Thank you. Thank you very much. Thank you guys.
Merci. Merci beaucoup. Merci à tous.
You know.., oh yes I know it's been a long time so please be patient.
Vous savez, oh oui, ça fait longtemps donc je vous en supplie, soyez patients.
You know, I didn't know that Donald Trump was going to win the election. I did suspect it.
Vous savez, je ne savais pas que Donald Trump allait gagner l'élection. Je le supposais.
Seemed like Hillary was doing well in the polls and yet — I know the whites.
Apparemment, Hillary était bien placée dans les sondages, et pourtant, ...je connais les blancs.
You guys aren't as full of surprises as you used to be.
Les gars vous n'êtes plus plein de surprises, comme avant.
And I think I speak for all of black America when I say that we are all praying for Omarosa.
Et je pense pouvoir parler au nom de l'Amérique noire en disant que nous prions tous pour Omarosa.
I don't even know what she's doing in the news.
Je ne sais même pas quel est son rôle.
But America's done it.
Mais l'Amérique l'a fait.
We've actually elected an Internet troll as our president.
On a effectivement élu un troll d'Internet comme président.
The whites were furious. I've never seen anything like it. I haven't seen whites this mad since the O.J. verdict.
Les blancs étaient furieux. Je n'avais jamais vu ça. Je n'avais pas vu les blancs aussi en colère depuis le procès d'O.J. Simpson.
It's a split screen with white people mad on both sides. 'Aaaarhh!!"
C'est un écran divisé en deux avec des blancs en colère de chaque côté. "Aaaaah!!!"
Not saying I'm enjoying it. I'm just saying I've never seen this before. I watched a white riot in Portland, Oregon, on television the other night.
Je ne dis pas que j'ai apprécié ce moment. Je veux juste dire que je n'ai jamais vu ça avant. J'ai vu une émeute blanche à Portland, dans l'Oregon, à la télévision l'autre soir.
The news said they did a million dollars worth of damage, all the black people were watching like, "amateurs"
So I'm staying out of it. I'm just going to take a knee like Kaepernick and let the whites figure this out amongst themselves.
Alors, je reste hors de tout ça. Je vais juste mettre un genou au sol comme Kaepernick et laisser les blancs réfléchirent à tout ça tous ensemble.
We've got a great show tonight!
Le spectacle va être super ce soir!
Ladies and gentlemen, A Tribe Called Quest is in the building. Don't go anywhere we will be right back.
Mesdames et messieurs, A Tribe Called Quest est ici. Ne partez pas, on revient.