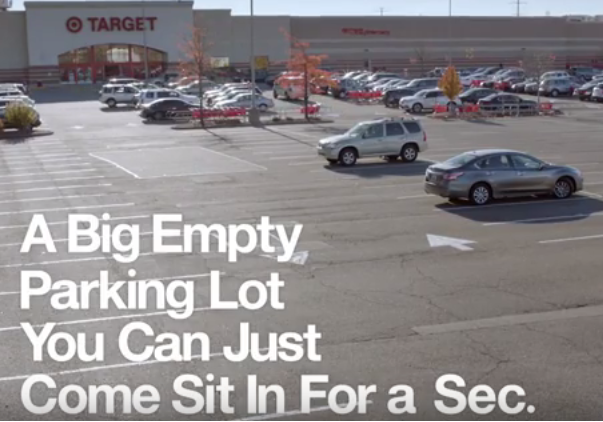 Target Commercial, Saturday Night Live du 19/11
Annonce: It's Thanskgiving and as always, Target has your whole family covered.
C'est Thanksgiving, et comme toujours, Target a des produits pour toute votre famille.
Whether you need festive home decor.
Si vous avez besoin de décorations festives pour la maison.
Last-minute bakeware.
Des moules à gâteaux à la dernière minute.
Or even a turkey.
Voire même une dinde.
And, if you're home for the first time since the election, Target's got what you need the most -
Et si vous rentrez chez vous pour la première fois depuis les élections, Target dispose de ce que vous avez le plus besoin -
A big empty parking lot you can just sit in for a sec.
Un grand parking vide où vous pouvez vous asseoir une seconde.
With over 500 beautiful empty spots as far as the eye can see, Target's parking lot is the perfect place to just stare out,
Avec plus de 500 places vides, à perte de vue, le parking de Target est le parfait endroit pour juste regarder dehors,
Bang your head on your steering wheel,
Vous cogner la tête contre le volant de votre voiture,
Or text a friend, "I honestly can't w them today..."
Ou envoyer à un ami, "Sérieux, je ne peux pas les supporter aujourd'hui..."
You can even put your seat all the way flat and then put it back up again,
Vous pouvez aussi allonger votre siège et puis le relever,
That took a couple of seconds,
Ca prend au moins 2 secondes,
Or turn off your car's ignition and just look at your breath for a while,
Ou éteindre le contact de votre voiture et juste regarder un peu la fumée qui sort de votre bouche en expirant,
And while you're there, why not make eye contact with the stranger in another car,
Et pendant que vous y êtes, pourquoi ne pas établir un contact visuel avec l'étranger dans l'autre voiture,
And without either of you saying a word, communicate the entire story of your day,
Et sans qu'aucun de vous deux ne prononce un mot, racontez-vous le déroulé de votre journée,
Wanna kill more time?
Plus de temps à tuer?
Head inside, you can wander our clothes aisle and think to yourself, "Oh yeah, Mossimo."
Rentrez à l'intérieur, vous pouvez vous promener dans nos rayons vêtements et vous dire, "Oh ouais, Mossimo"
Plop down by our bras and add random numbers on your calculator.
Vous poser dans le rayon soutifs et ajouter des nombres aléatoires sur votre calculette.
Or go to our toy section and just lay down back there,
Ou aller dans notre rayon jouets et vous allonger là sur le sol,
And here's a tip, check out the play-doh, open the blue one and surprise, we had a flask in there for you,
Un conseil, regardez la pâte à modeler, ouvrez la bleue et surprise, une fiole pour vous,
Girl, you deserve it!
Ma fille, tu l'as bien méritée!
So this Thanksgiving, tell your parents you're gonna grab something from Target real quick,
Alors pour ce Tahnksgiving, dites à vos parents que vous devez passer prendre un truc vite fait chez Target,
Kick it, and then go home and tell them they didn't have it!
Relaxez-vous et puis rentrez à la maison en disant qu'ils ne l'avaient pas!
It'll be our little secret!
Ce sera notre petit secret!
Target - buy yourself some time.
Target, achetez-vous du temps pour vous.
Caissière: You do have to pay for all this stuff!
Tu dois payer tout ça!
Cliente: What?
Quoi?