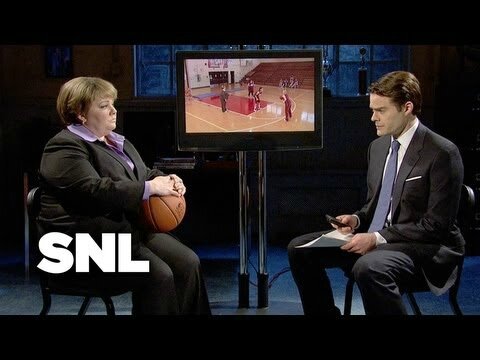 Voix d'annonce: This week video surfaced of Rutgers basketball coach Mike Rice beating, pushing, and using slurs against his players.

Cette semaine, des vidéos du coach de basket de l'équipe des Rutgers : Mike Rice. Il tape, pousse et utilise des insultes contre ses joueurs.
The ensuing outrage led to rice's termination.

Les atrocités suivantes l'ont conduit au licenciement.
But Mike Rice's behavior while shocking seems gentle when compared to the actions of this woman: Sheila Kelly, Head Coach of Division III's Middle Delaware State.
Mais le comportement de Mike Rice, bien que choquant, n'est rien, comparé aux actions de cette femme: Sheila Kelly, coach et à la tête de de la 3ème division du Middle Delaware.


Bob Ley: Tonight, we investigate Sheila Kelly's reign of terror on "Outside The Lines".
Ce soir, nous allons enquêter sur le règne de terreur de Sheila Kelly dans "Outside The Lines".
Sheila Kelly has long had a fiery reputation among her peers.

Sheila Kelly a depuis longtemps une réputation de "femme explosive" parmi ses collègues.
But this week, "Outside The Lines" obtained practice video showing exactly how far she has gone to motivate her players.

Mais cette semaine, "Outside The Lines" a récupéré une vidéo filmée pendant les entrainements qui montre clairement jusqu'où elle va pour motiver ses joeuses.
Cursing at them...
En les insultant...


Sheila Kelly: I will fucking cut that ponytail off!
Je vais couper cette queue de cheval!


Bob Ley : Throwing basketballs..
En jetant des ballons de basket...
Shooting T-shirt guns...
En tirant des t-shirts à distance...


Sheila Kelly:You can't fucking hide from me!
Putain!! Vous ne pouvez pas m'échapper!!


Bob Ley : Throwing bricks at them...
En leur jetant des briques...


Sheila Kelly: Guess what?
Devinez quoi???
Brick!!!!!!
Brique!!!!


Bob Ley : Threatening them with a baseball bat...
En les menaçant avec une batte de baseball....


Sheila Kelly: You take that ball... and you put it through that hole... and I won't hit you with the bat!
Tu prends cette balle ..et tu la mets dans ce trou...et je ne te taperai pas avec cette batte!


Bob Ley : ......while they're on roller skates.
alors qu'elles sont sur des rollers.
Even forcing the players to serve her meals....
Elle les force même à lui servir ses repas.


Sheila Kelly: Where's the bread? Where is the bread?!
Où est le pain??? Où est le pain??
That's shitty, shitty bread!

Ce pain pourri, pain de merde!!!
You!!! Eat that!
Toi! Mange ça!


Bob Ley : I sat down with Delaware State Athletic Director Bill Crenshaw, to ask why Coach Kelly was still ith the team.
J'ai parlé avec le directeur de Delaware State Athletic, Bill Crenshaw, pour lui demander pourquoi Coach Kelly était toujours dans l'équipe.


Bill Crenshaw: Is Coach Kelly unconventional?
Est-ce que la Coach Kelly a des méthodes différentes?
Sure!

Evidemment!!
Have most, if not all, of the players come to my office and begged for me to replace her?

Est-ce que toutes les joueuses me demandent à genoux de la renvoyer?
Uh... yeah!!!
Euh..Ouais!!
But playing college ball isn't supposed to be easy or fun or rewarding. It's supposed to make money for the university!

Mais jouer au basket à l'école, c'est pas censé être facile ou amusant! C'est pour avoir une bourse à l'université!
And let's not forget that these kids have it good! They're all gettig a free education!
Et n'oublions pas que ces gamines le savent très bien! Ils veulent tous étudier gratuitement!!

Bob Ley : While it is true members of the team receive scholarships, "Outside The Lines" has obtained classroom video that calls into question the quality of that education.
Et c'est vrai, les membres de l'équipe reçoivent d'autres cours, "Outside The Lines" a obtenu des vidéos de leurs cours! On peut se demander si la qualité d'éducation est adaptée!


Sheila Kelly: Yeah, you want to play basketball?! Huh?! Huh?! Do you?!
Ouais vous voulez jouer au basket??? Hein hein?? Vraiment??


Professeur: I'm gonna have to ask you to leave!!
Je vais devoir vous demander de quitter ma classe!


Sheila Kelly: Now, who's next?! Who wants...?
Maintenant à qui le tour?? Qui veut..?
I'll tella ya'! ...You!! You're next!
Je vais vous le dire!!! Toi!!! Tu es le suivant!!!!


Professeur: Coach Kelly... please stop.
Coach Kelly... je vous en prie arrêtez...


Bob Ley : We sat down with one-time Assistant Coach Kenny Watkins, who claims the tapes didn't even show the worst of it.
Nous avons parlé son assistant d'une journée Kenny Watkins, qui nous a assuré qu'on n'avait encore rien vu.


Kenny Watkins: She said some of the nastiest things I've ever heard.
Elle disait des trucs vraiment dégueulasses, j'avais jamais entendu ça!!
Things like, "You must have ... up your butt, 'cause every time you dribble I can see your ..., If I wanted to see ... bangin' ..., I'd bring a ... to a truck stop."

Des trucs du genre: "Tu devrais avoir (bip) plein le cil, parce qu'à chaque fois que tu dribbles, je peux voir tes (bip) , si je voulais voir ces (bip) pendre (bip), je prendrais un (bip) d'un relais routier"
It doesn't even make sense! And I recorded it all.

Ca n'a aucun sens! Et j'ai tout enregistré!!
You come back later today, and I'll play you the tapes.
Demain, je vous les ferai écouter.


Bob Ley : But when we came back the next day, Kenny Watkins had changed his tune.
Mais le jour suivant quand nous sommes revenus, Kenny Watkins avait changé de version.

Kenny Watkins: I was just joking! Coach Kelly is the best!
Je rigolais! Coach Kelly est la meilleure!


Bob Ley: Is everything all right?
Tout va bien?

After weeks of dodging our request, Coach Kelly finally agreed to an interview.
Après des semaines passées à nous éviter, Coach Kelly a finalement accepté notre interview.
Can I show you a clip from practice?
Je peux vous montrer une vidéo d'entrainement?


Sheila Kelly: I don't know, can you?
Je ne sais pas! Vous pouvez?
Yeah, you know why I threw a toaster at you?! 'Cause you're toast!
Ouais! Tu sais pourquoi je t'ai jeté un grille-pain?? Parce que tu es un toast!!
'Cause you're a piece of shit! You're a piece of shit on toast!

Tu es de la merde! Tu es une merde sur un toast!!
Pick that toaster up! Pick it up!
Relève ce grille-pain!!! Ramasse-le!


Bob Ley: Why would you throw a toaster at a player?
Pourquoi avez-vous jeté ce grille-pain sur cette joueuse?


Sheila Kelly: Because when someone blows by you, you're toast!
Parce que quand quelqu'un vous frappe, vous êtes un toast!!
When you get toast and you are toast... you get hit with a toaster!

Quand vous prenez des toasts et que vous êtes un toast...vous êtes frappé par un grille-pain!
Or, to put it in terms that you might understand: "Duuuu duuu du duuuuu!!!"
Ou pour le dire dans votre langue: "Dou dou dou!! Doooouuuuuu!!"


Bob Ley: You seem defensive.
Vous semblez être sur la défensive.


Sheila Kelly: What? You're attacking me!
Quoi? Vous m'attaquez!!
I mean, it's not like I drive a golf cart through practice!
Je veux dire, c'est pas comme si je roulais avec une voiture de golf pendant les entrainements!


Bob Ley: But she has.
Mais elle l'a pourtant fait!


Sheila Kelly: Dribble, dodge, dribble, or dodge me!
Dribble, contourne, dribble, ou évite-moi!
Quick feet! Quick feet! Quick feet!

Plus vite les pieds, plus vite les pieds!!!!
You don't move, I'm gonna barrell you!

Ne bouge pas!!! Je vais t'écraser!!!
Yeah, move! Move! You always move!
Ouais!!! Bouge!!! Bouge!!! Vous bougez tout le temps!!


Bob Ley: Why do you think you have been fired?
Selon vous, pourquoi avez-vous été virée??


Sheila Kelly: Because I get results!
Parce que j'avais des résultats!!!


Bob Ley: Let me read you your record as Head Coach...
Laissez-moi vous lire vos résultats!!
Sheila Kelly: Oh you can read!!
Oh vous savez lire!!!
Bob Ley: Over the course of three seasons, your teams were a combined 3 and 81.
Sur trois saisons, votre équipe à un résultat de 3 contre 81!


Sheila Kelly: Is that my fault?
Et c'est moi la responsable??
All my best players were injured.
Toutes mes meilleures joueuses étaient blessées!!!


Bob Ley: Were you the one who injured them?
Par vous?


Sheila Kelly: I'm not answering that question.
Je ne vais pas répondre à cette question.


Bob Ley: I'd like an answer.
Je voudrais une réponse.

Sheila Kelly: And I'd like you... to... shut... the... hell...up!!!!
Et moi je voudrais que vous....vous.... la .........fermiez!


Bob Ley: Why do you have a basketbal in your lap?
Pourquoi vous avez un ballon sur vos genoux?


Sheila Kelly: Why don't you keep asking me that question, and you're gonna find out.
Si vous continuez à poser des questions, vous allez vite le savoir.


Bob Ley: I did keep asking questions, and what I found out was that I had provoked her and it was my fault.
J'ai continué à poser des questions et j'en suis venu à la conclusion que je l'avais provoqué et que c'était ma faute!!
Next week on "Outside the Lines", the heartwarming story of a college football coach who harvests the organs of his players and then sells them for personal gain.
La semaine prochaine dans "Outside the Lines", la déchirante histoire d'un coach de foot du collège qui a pris les organes de ses élèves pour les revendre dans le but de s'enrichir.